Intro
Introducing babblevoice Desktop; making it even easier to make and receive calls. Bringing functionality which simplifies your work life, more integrated, more collaborated. babblevoice Desktop is a helper application designed to make using the phone of your choice even easier. babblevoice Desktop is not a phone, it helps you manage your real phone (for example a Polycom 331 sat on your desk).
We want to encourage developers to build integrations to their favourite apps, babblevoice Desktop makes this possible by providing a framework, the babblevoice Desktop API, to quickly build telephony applications using web technology you already know.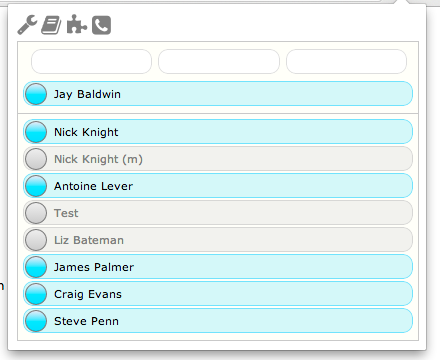 babblevoice Desktop comes in 2 flavours
babblevoice Desktop for Google Chrome™
babblevoice Desktop for Microsoft Windows™
Google Chrome users love the Google Chrome version, making phone calls a click away from any web page. Easily view, transfer or manage your calls from the pop out window in the top of Google Chrome. It comes with a powerful framework to extend the application by providing Javascript extensions.
Users who want better Microsoft Windows integration now have the Windows choice. babblevoice Desktop quietly sits in the system tray. With support for Javascript extensions, it also provides support for compiled bvp extensions, which are capable of integrating easily into Desktop applications.
Features
Click to dial
(Google Chrome™) Dial phone number direct from any web page
Transfer calls
Hangup
Intercept
Manager - spy
View colleagues status
With the power of bablevoice Desktop plugins, you can search external data sources for contact information, click to dial directly from babblevoice Desktop. Powerful IVR scripts can be run from babblevoice Desktop, truly integrating your application with your telephone system.
Available plugins
(Please contact us if you have a plugin for babblevoice Desktop and you would like it listed here).
Installing babblevoice Desktop
Instructions for installing babblevoice Desktop for Microsoft Windows™ or babblevoice Desktop for Google Chrome™.
babblevoice Desktop Overview
Whether you use babblevoice Desktop for Google Chrome or for Microsoft Window's, you will have the same screen.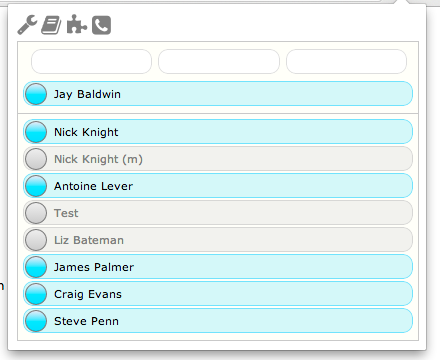 This option will take you to the configure page where you can change the devices displayed in the extension
This option will display your babblevoice contacts, this contacts can be configured from the babblevoice Control Panel from Devices-> [your device] -> Edit Device -> Phone Book from this list you can then call your contacts.
This option will open the plugin popup which will allow you to add and remove plugins. For more information on plugins see Babblevoice_Desktop_API
This option displays an input box where you can enter in a number to dial from your phone. If you enter the name of a person plugins can search for phone numbers matching as does babblevoice Desktop search extensions and its own phonebook.
Call Spaces
Directly under the toolbar are slots which will display any calls you have on your phone. These calls can be dragged to transfer or hangup and display information such as call timer and caller id.
Devices (extension)
Underneath this is the complete list of devices you have selected that you are interested in. It will show you them logged in or not, on the phone or not, call timer, caller id and so on. If you have manager permissions you will be able to listen in active calls. You can call a colleagues by clicking on their extension. If a colleagues phone is ringing you can click it to pick up that call on your phone.