Intro
babblevoice Desktop is a helper application designed to make using the phone of your choice easier. babblevoice Desktop is not a phone, it helps you manage your real phone (for example a Polycom VVX 201 sat on your desk).
We want to encourage developers to build integrations to their favourite apps, babblevoice Desktop makes this possible by providing a framework, the babblevoice Desktop API, to quickly build telephony applications using web technology you already know.
We have released a new version of babblevoice Desktop. This is currently available in the Microsoft Windows™ flavour. Chrome and Web will be released soon.
Version 2 introduces:
A redesign of the interface
More consistent interface for plug-ins to use
Support for queues
Support for call parking
Support for fully attended transfers
For the Microsoft Windows™ Version, always on top, dial clipboard copied phone numbers and window resizing
Version 2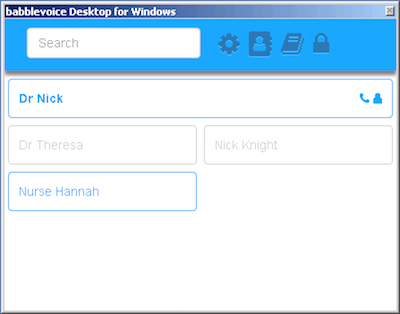 Version 1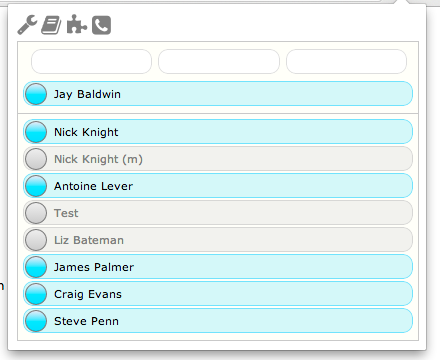 babblevoice Desktop comes in 3 flavours
babblevoice Desktop for Google Chrome™
babblevoice Desktop for Web
babblevoice Desktop for Microsoft Windows™
The Google Chrome™ version is currently version 1, it is on our roadmap to migrate this to version 2 soon. This will split the application into the extension for some functions and use the web version for more advanced features.
The Web version is still to be released. It is version 2.
For Microsoft Windows™, babblevoice Desktop quietly sits in the system tray. With support for Javascript extensions, it also provides support for compiled bvp extensions, which are capable of integrating into Desktop applications.
Features
Click to dial
(Google Chrome™) Dial phone number direct from any web page
Transfer calls
Hangup
Intercept
Manager - spy
View colleagues status
With the power of bablevoice Desktop plugins, you can search external data sources for contact information, click to dial directly from babblevoice Desktop. Powerful IVR scripts can be run from babblevoice Desktop, truly integrating your application with your telephone system.
Available plugins
(Please contact us if you have a plugin for babblevoice Desktop and you would like it listed here).
Installing babblevoice Desktop
Instructions for installing babblevoice Desktop for Microsoft Windows™ or babblevoice Desktop for Google Chrome™.
Using babblevoice Desktop